God Hates NFTees (GHNFTees) NFT collection is in muddy waters after several NFT artists and collectors accused them of stealing designs. According to NFT influencer, Sibel, GHNFTees allegedly stole the roadmap design of their project, For The Culture (FTC). Allegedly, the project also stole FTC NFT's OpenSea description. Let's take a closer look at the allegations against God Hates NFTees NFT.
What are the allegations against God Hates NFTees?
On Sunday, July 3, Sibel tweeted, "A project STOLE our roadmap image (art) directly and also our Opensea description and many more things." While Sibel did not exactly name God Hates NFTees, Twitter users were quick to connect the dots. 
Later, in a separate tweet, Sibel confirmed that while they spoke to GHNFTees, they allegedly said "we like it". 
Furthermore, today, The Hundreds co-founder, Bobby Hundreds too came forward to accuse the project of stealing art. "I have nothing to do with God Hates NFTees," they tweeted. "They stole our designs and campaign and now the project is being attributed to me/us. Please be aware that we are not associated with this project."
To be sure, there are quite some similarities between the "roadmaps" of the two projects: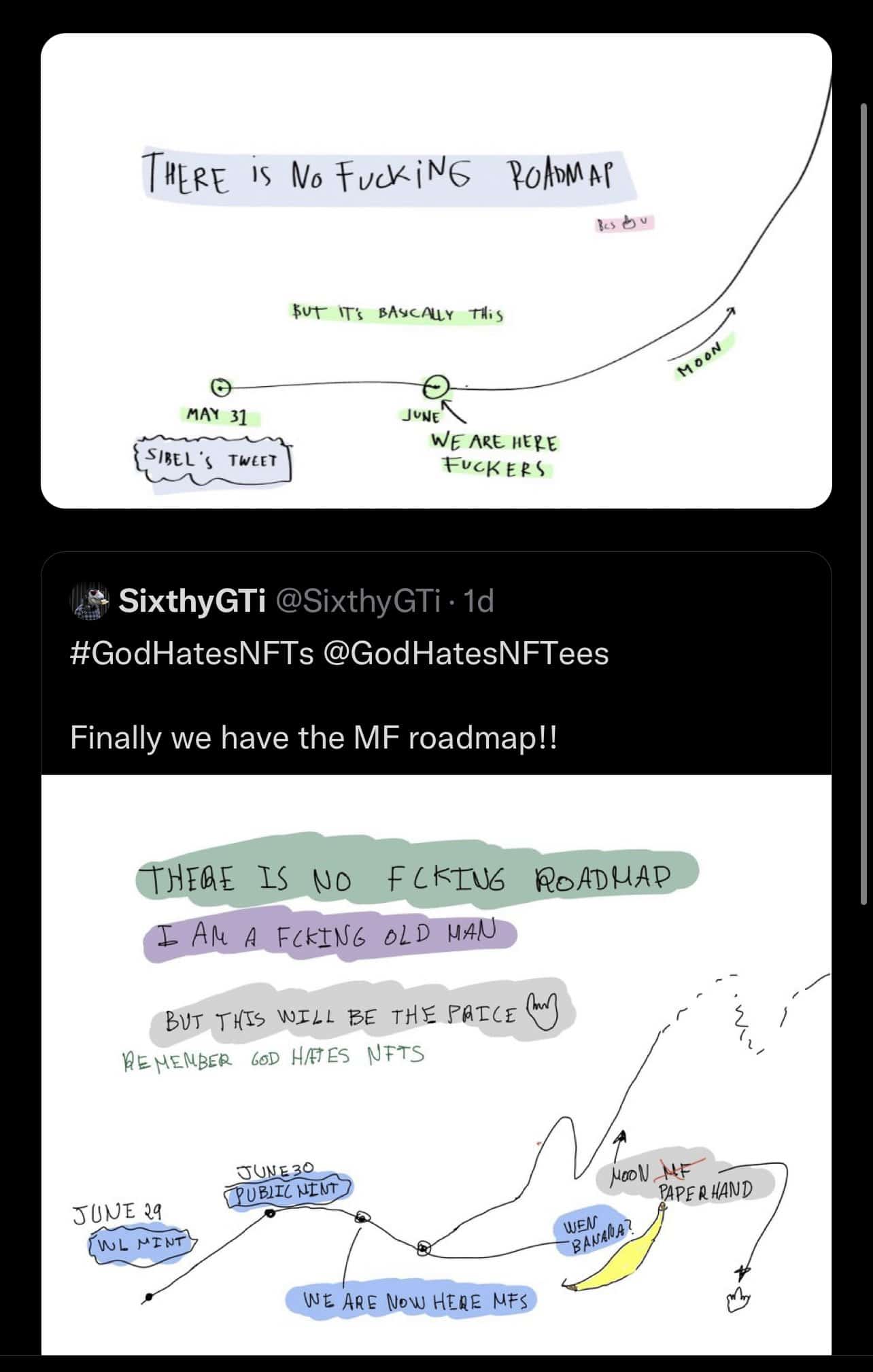 Besides, Twitter user, ​​CooksToTheMoon too accused God Hates NFTees of stealing their art. Apparently, they created a meme for the project's meme contest. Although they didn't win the contest, GHNFTees allegedly used the meme to "promote" their Twitter feed.

"Then when I asked how is this fair in the discord, I got banned," CooksToTheMoon added.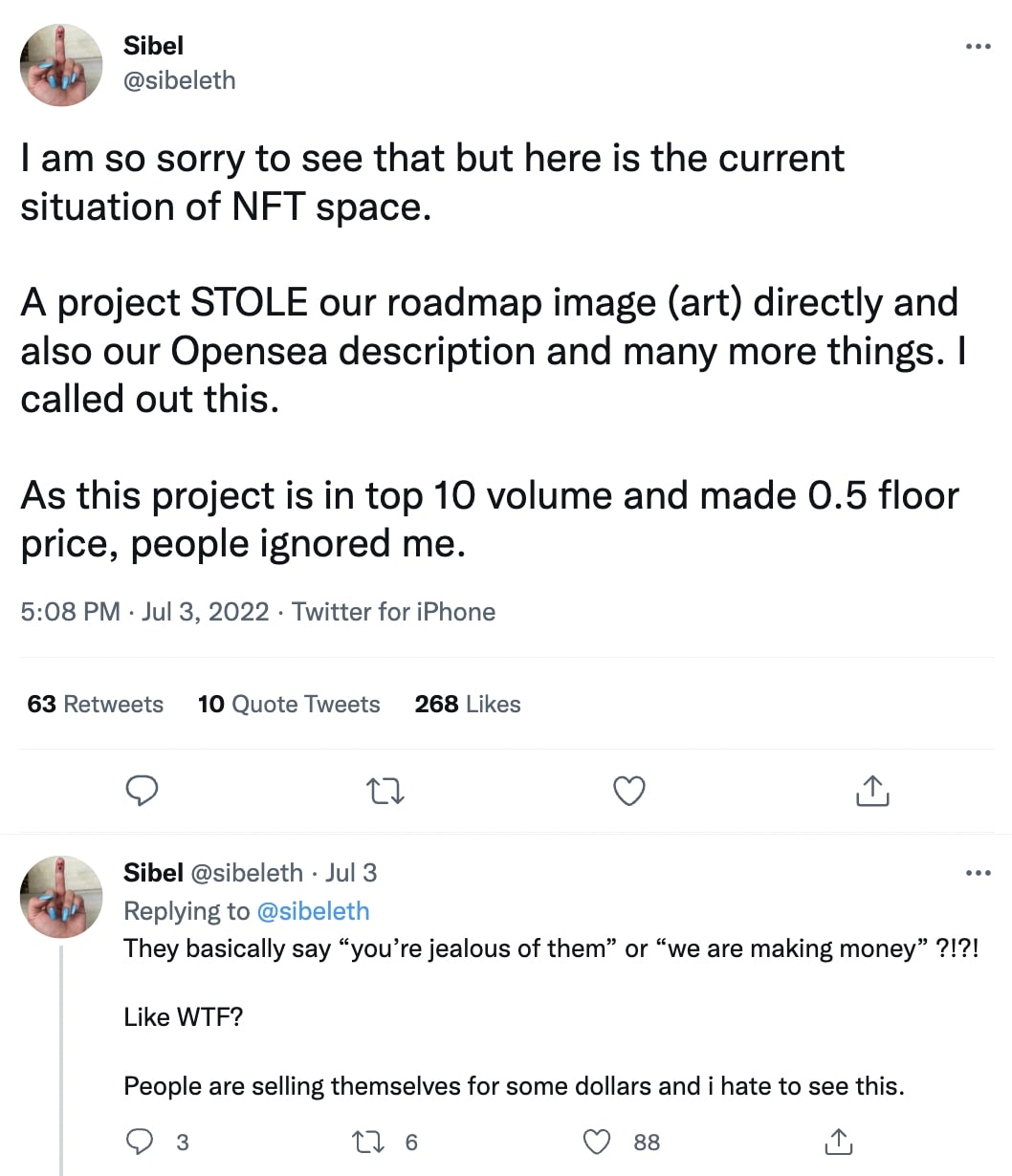 Could Warner Bros file a DMCA against the project?
There is still no clarity on whether God Hates NFTees really stole designs from multiple sources, including Bobby Hundreds and the FTC NFT. But one thing is for sure—GHNFTees' actual NFT artwork bears a striking resemblance to art from the hit sitcom, Rick and Morty.  
Rick and Morty is an American adult animated science fiction sitcom from the Warner Bros-owned Cartoon Network. Some users are now speculating that Warner Bros could file a DMCA (Digital Millennium Copyright Act) against the project for copyright infringement. If that happens, OpenSea could even delist the collection. 
As MetaDavid explained, "Their art resembles the same work from the TV show Rick and Morty…there's a lingering risk that they can file a DMCA to have the project delisted from OS."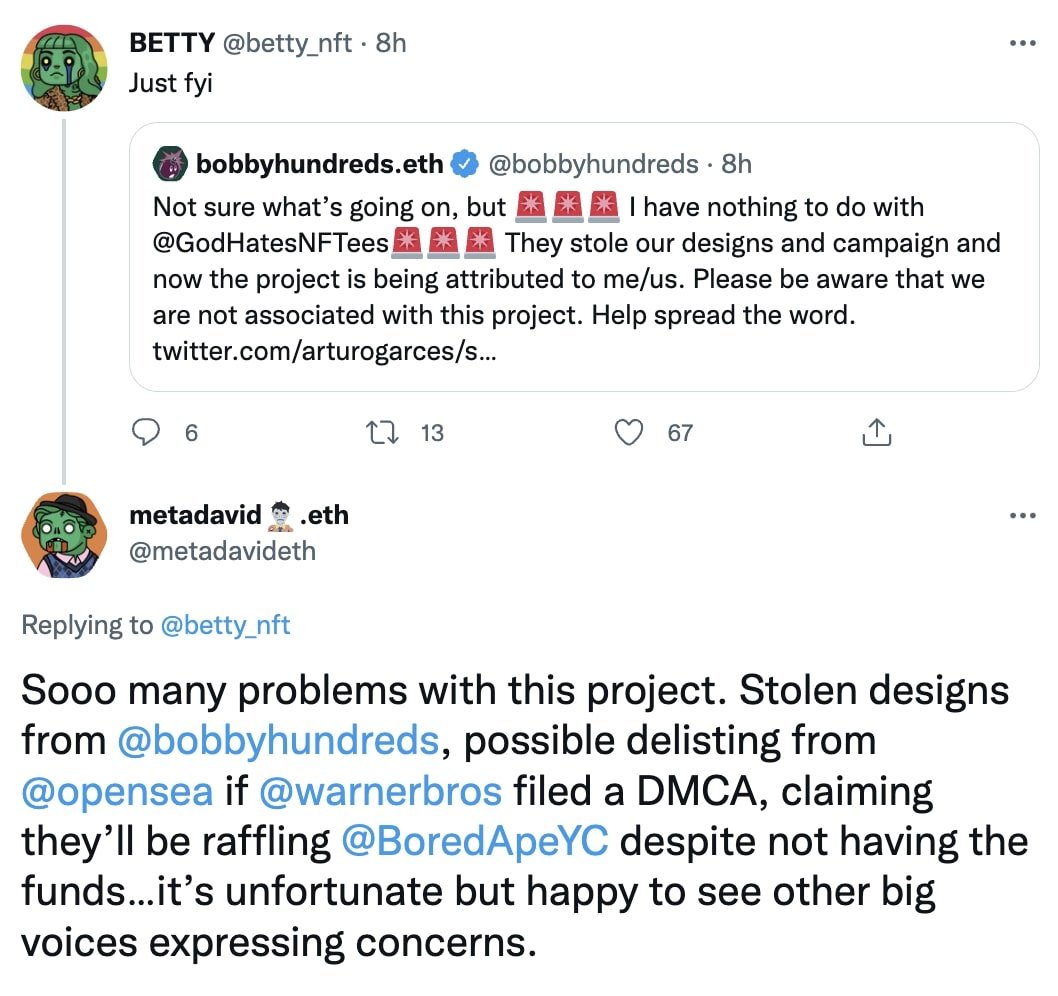 What is the God Hates NFTees NFT collection?
God Hates NFTees is the latest free-to-mint NFT collection to take off. Essentially, the project is a CC0 collection featuring 5022 protestors. Already, it boasts a 1.68 ETH floor price and 2,000 ETH in sales volume so far (at the time of writing). Like most NFTs in this genre, they too have no roadmap. While they have a Discord, they claim it's "just for troll".
"GHNFTees is a collection where the scoundrel, the informal and the trolling predominate, but always with ethics," says its website. The outcome of the recent allegations against the project remains to be seen. 
Read the full article here