Acclaimed NFT artist and animator, DeeKay Kwon is the latest victim of a Twitter hack. On Friday, July 15, a hacker compromised the artist's Twitter account to post a phishing link. Unfortunately, many of DeeKay's followers fell victim to the scam and approved a malicious transaction that drained their wallets. Reportedly, the hacker stole around $150,000 worth of digital assets from multiple victims. Here's all you need to know about DeeKay's Twitter hack. 
About NFT Artist DeeKay's Twitter Hack
Early on Friday morning, a fraudster hacked renowned NFT artist, DeeKay's Twitter account. The hacker then posted a phishing link to a fake website for the artist's nearly 180,000 followers. 
"Yesterday was probably one of the worst experiences I have had since I joined web3," DeeKay tweeted on Saturday. "My Twitter was hacked, and the hacker has been tweeting a fake mint site. I reacted to it ASAP and spread the word but could not stop the damage in time."
As is usual in such phishing attacks, the hacker posted a link to a new, exclusive NFT collection from the artist. "The LetsWalk Collection Airdrop is now live! Only 1,000 lucky people are able to claim! Good luck!", the post read. 
Unfortunately, several of DeeKay's followers believed the post and proceeded to the fake website that mimicked the artist's official site. While trying to claim the NFTs on the site, the victims approved a transaction granting the hacker access to their wallets. Ultimately, the attacker stole NFTs worth $150,000 from the victims. 
One victim, who goes by the name ​​CryptOmid.eth, lost four Cool Cats and three Azuki NFTs. Apparently, they clicked the sign button twice. By the time they realised this was "shady", it was too late.
How Was DeeKay's Twitter Hacked?
So, how exactly did the attacker hack DeeKay's Twitter account? In a thread, DeeKay explained that his Two-factor authentication (2FA) for Twitter was likely off for a specific time. The fraudster took advantage of this and hacked his account. 
"But even 2FA was off, how was he still able to access my account? The questions remain…", DeeKay added.
Notably, the hacker was well-prepared. According to DeeKay, the attacker allegedly created the fake mint site two weeks before the hack. They likely studied the times the artist was inactive as well. Fortunately, the artist realised he was hacked within a minute.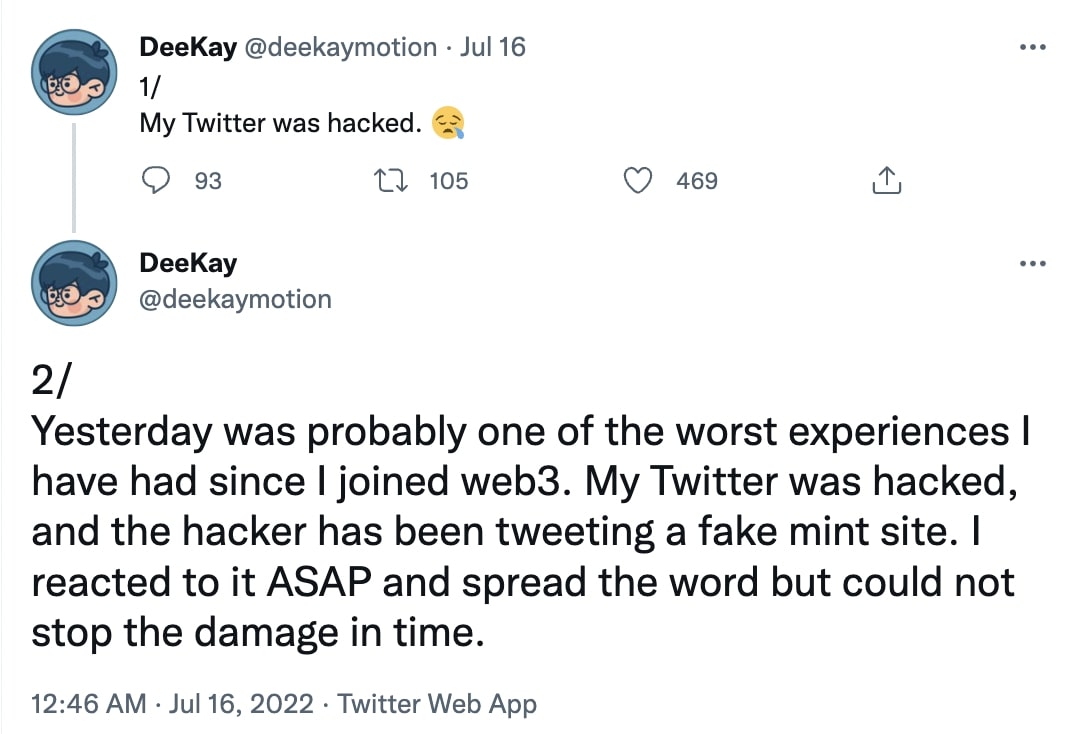 Will The Artist Compensate The Victims?
For now, DeeKay said that he has started reaching out to everyone and has initiated a process to find a way to compensate the hack victims. However, he added that he is unsure whether reimbursement is the right course of action. According to him, some malicious actors are pretending to be affected to make use of the opportunity.
"This also encourages hackers to keep doing their thing since I am the one covering the mess," DeeKay wrote. "Part of me says reimbursement should not be a standard way to react, and another part of me says I should still find a way to compensate and find a balance." 
Read the full article here