Popular digital artist KidEight made some major waves with his GEVOLs NFT collection last week. On July 2nd, the EVOLs creator tweeted that he would be hiking up the secondary royalties for GEVOLS to a whopping 80% after September 2nd. In addition, he noted that he plans to buy all the GEVOL NFTs listed after that date. And if that's not enough, he plans to burn those listed NFTs!
But what could have prompted such a drastic decision? Let's dissect KidEight's surprising announcement and what it might mean for the future of GEVOLs.
All about KidEight's stunning GEVOLs announcement
For those who don't know, GEVOLs is an NFT collection that expands on KidEight's EVOL character. Following his highly successful NFT mints featuring the EVOL, KidEight launched the 8,888 GEVOL NFTs back on August 31st, 2021 at a mint price of 0.1 ETH.
The collection has a current floor price of 0.17 ETH. What's more, its unique holder count currently sits at 3.5K, and the collection has amassed over 9,000 ETH in secondary sales volume. Speaking of secondary sales, the collection's current creator royalty is 8%. Thus, the increase that KidEight announced represents a 10x increase in royalty fees.
To clarify, the creator royalty is the percentage of any secondary sale that a creator gets when their work sells on a secondary marketplace like OpenSea. Significantly, this feature of NFTs is one of the most celebrated aspects of smart contract technology when it comes to compensating artists for their work.
However, in this case, an 80% royalty would leave a GEVOL seller less than 20% of whatever they sell the NFT for (after platform trading fees). Thus, 80% fees are a substantial deterrent to anyone attempting to sell an NFT.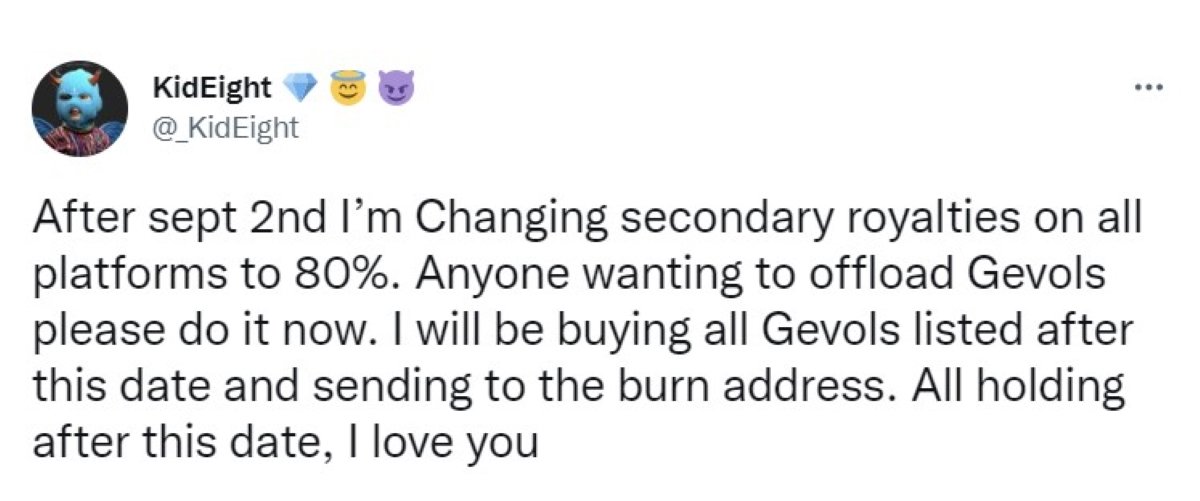 Why is KidEight hiking up the GEVOLs royalties?
Obviously, as KidEight's tweet implies, the fee hike is a clear move to encourage everyone but the most ardent GEVOLs supporters to list their NFTs for sale before September 2nd. In other words, KidEight seems to be making the drastic decision as a way to weed out all the non-diamond-handed GEVOLs holders.
To that end, side conversations between KidEight and his community in the tweet's replies give us some more insight into KidEight's thought process behind increasing the GEVOLs royalties. To be sure, the move confused many of KidEight's supporters. One such person replied to his tweet stating as much, while asking KidEight if he was "killing off gevols?"
KidEight's response to the person (@Nft1oh on Twitter) elaborates on his train of thought. In it he said:
"I'm reducing token supply to weed out people asking 'wen'. A creator launching an affordable project for collectors shouldn't be seen as a 'rug'. I'm just curating collectors at this point. I am blessed to have die hard supporters & collectors and I want to reward them".
Thus we can assume that the move has come as a result of KidEight's frustration with some GEVOLs holders. In fairness, KidEight's main gripe appears to be something that many NFT project founders often comment on. Namely, that NFT collectors can be quick to call legitimate projects rug pulls if their floor price becomes stagnant or goes down.
KidEight even commented that "the collection feels like a life sentence at this point". That a creative's passion project could be made to feel like a prison sentence seems reason enough for KidEight to be shaking the table to this extent.
GEVOLs royalty rise also intended to cut down collection size
Through this and other comments, it's clear that KidEight intends to effectively buy out some of his collectors. Another important reason to note is that KidEight wants to seriously trim the GEVOLs collection size. As mentioned previously, there are currently 8,888 GEVOLs. In one tweet, KidEight notes that he "always thought the token count should be 1-2K." In another, he tells one person that he plans on "getting the token count to less than 1000 one way or another".
All things considered, this is quite a remarkable turn of events for a notable NFT collection and creator. It's unfortunate that KidEight felt enough pressure to make such a move. Regardless, it will be very interesting to see how it pans out. And if other NFT creators become inspired to make similar changes.
Read the full article here