Fans of the Marvel Cinematic Universe (MCU) can celebrate with the news of limited edition NFTs for Thor: Love and Thunder! These special NFTs for the fourth Thor movie come from a partnership between Disney/Marvel Studios, and the global theater chain Cinemark.
All about the Thor: Love And Thunder NFTs from Disney & Cinemark
Last week, Cinemark launched this partnership with Disney for Thor: Love and Thunder NFTs. Specifically, the promotion began on June 28 and will continue through July 7.
For those who don't keep up with every new development in the MCU, Thor: Love and Thunder is the fourth installment in Marvel's Thor sub-franchise. The film premieres in theaters on Friday, July 8th, and tickets are actually available right now.
The hotly anticipated film stars Chris Hemsworth, Natalie Portman, and Tessa Thompson. In addition, Oscar-winner Taika Waititi is once again in the director's chair. The New Zealander first joined the MCU with 2017's Thor: Ragnarok. Notably, the film was a smash hit with critics and audiences alike.
Given the small collection size of 1,000, the Thor: Love and Thunder NFTs from Cinemark and Disney are very rare. In contrast, AMC put out 86,000 NFTs in the run-up to Spiderman: No Way Home. As a result, they could well be a desired collectible for mega fans.
"Cinemark is thrilled to collaborate with Disney on the release of these exclusive Marvel Studios NFTs for Thor: Love and Thunder," said Wanda Gierhart Fearing, Chief Marketing and Content Officer of Cinemark.
"Thor's newest quest is sure to be an epic foray filled with adventure, strength and heart, and it is fitting that our rewards members – cinema's biggest and most loyal fans – will have the chance to win these unique digital collectibles to celebrate this exciting moment and epic film."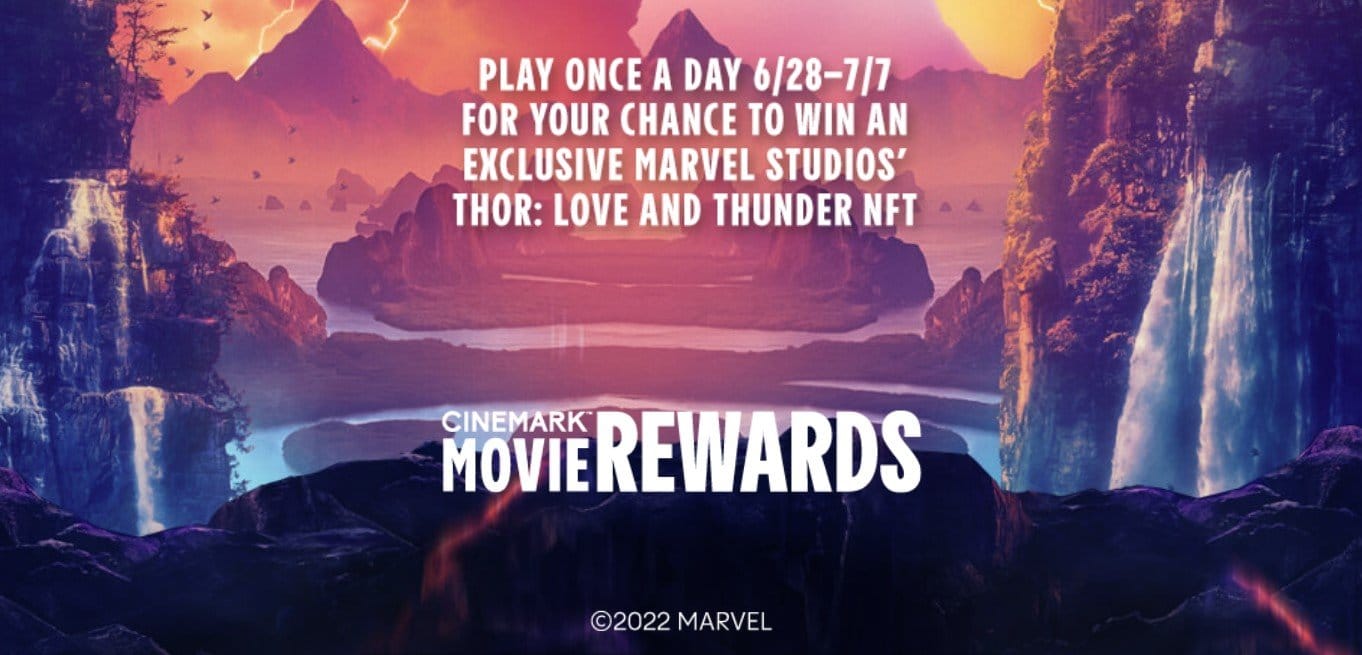 How to win the latest Disney/Marvel x VeVe NFT
Firstly, it's important to note some of the rules for entering the giveaway for the Thor: Love and Thunder NFTs from Cinemark and Disney. For one thing, only Cinemark Movie Rewards members can enter to win one of the 1,000 NFTs.
Basically, members can start by visiting their rewards page on the Cinemark website or app. There they will find a unique PIN. Using this, they can play an instant-win game that runs every day. For lucky fans who win, they will get a code that they can redeem on the VeVe marketplace.
Significantly, this continues VeVe's run as the home for officially licensed Disney and Marvel characters. Evidently, this new partnership with Cinemark is proof of Disney's focus on exploring the digital collectibles space with its own NFTs.
If you want to find out more about the Thor: Love and Thunder NFTs, head to the Cinemark website. And if you're not yet a Cinemark Movie Rewards member, not to worry! You can still sign up in time to enter to win.
Read the full article here