NFTGo, one of the leading data aggregators in the NFT space, is launching Watchlist, a new feature for tracking NFTs. The analytics company officially, NFTGo.io, was established in 2021. It aims to change how NFT users collect and view their data. The Watchlist will provide users with a more efficient and straightforward way to view and manage NFT collections, track addresses, create NFT dashboards, and share their entire Watchlist.
What is NFTGo?
As an NFT data aggregator, NFTGo offers a unique all-in-one service. Essentially, data aggregation provides a vast amount of information from various sources to compare and combine data. NFTGO does this for the entire NFT ecosystem. They aim to become the gateway to the NFT ecosystem and provide Web3 data collection that everyone can use. 
To do this, they offer a wide range of analytic tools and features that help people in their data collection. Some of the instruments on the platform include the NFT market trends and analytics, an NFT search engine, ranking of collections, rarity tools, whale tracking, upcoming nft drops, a trading aggregator, and much more using real-time data. These tools help users of NFTGo to discover and purchase NFTs and keep track of NFT assets. 
Now, with the introduction of Watchlist, users have the opportunity to create a customized page on the mega data platform. The new feature allows users to manage their NFT collections, track addresses, create NFT dashboards and share their wallets with others.
Watchlist is an evolution of NFT data tracking
NFTGo is constantly updating its analytics platform and recently launched a Trading Aggregator in Q2 2022. The latest feature, Watchlist, allows users a more personal and streamlined service. 
Time is one of the most crucial aspects for NFT traders. Indeed, using the new feature will allow users to react quicker and smarter on the platform. Significantly, it will speed up the data collection process and allow users to focus on NFTs they are interested in.
Additionally, Watchlist supports data tracking in three categories. These are Collection, Address, and NFT.  
Collection speeds up the process of buying and selling NFTs.
Firstly, the collection dashboard will allow NFTGo users to find the right time to purchase NFTs. You add an NFT collection to your Watchlist, which can help you select the best time to buy.
The collection dashboard shows the transaction activities of collections. Users can see sales, listings, transfers and more. One of the exciting aspects is the social feed from Mirror, which has options to see what NFT whales and blue-chip holders are purchasing.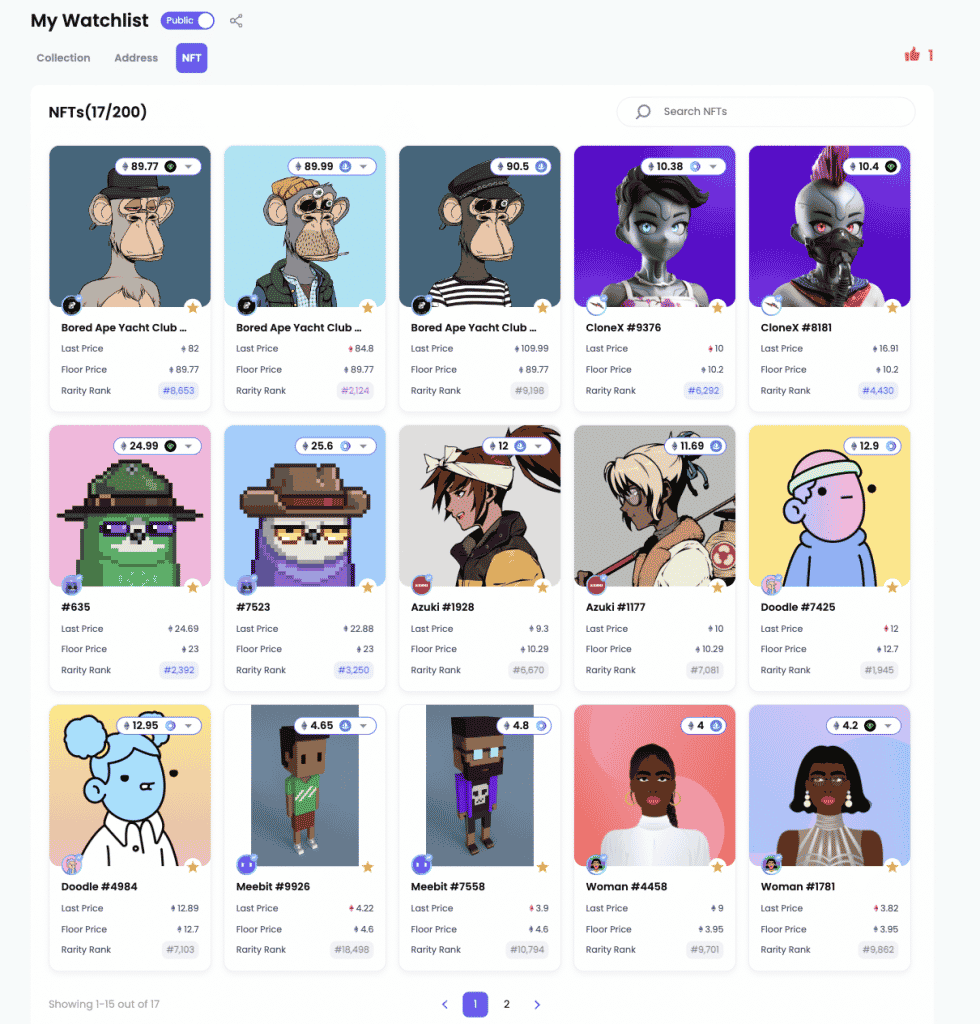 NFTGo Watchlist address feature allows you to follow the smart money.
Secondly, the NFTGo address dashboard also provides an insight into how big NFT collectors work. Essentially, using this feature, you can see what other users are up to and what big names are buying. Basically, it offers a snapshot of individual NFT address performance. The key metrics on offer include estimates of holding value, profit, loss, and more.
NFT dashboard provides a simplistic overview
Lastly, with the ability to track over 200 NFTs at once, the Watchlist is a simple and efficient overhaul of data analysis. The dashboard is smooth and visually pleasing, which is an underrated feature.
Furthermore, NFTGo users can choose what they want to focus on. For example, if rarity is essential to your NFT buying decision, you can also add it to your Watchlist. 
Finally, the new NFTGo watchlist feature is now live. Users can now access the NFTGo.io system and use it to experience a faster, more efficient way of finding, tracking and buying NFTs.
Read the full article here