The NFTGo analytics platform revealed its latest innovation: an NFT trading aggregator. Users will be able to buy NFTs in bulk to save gas fees and find the lowest prices for their favorite collectibles. What's more, the feature will also detect suspicious digital items so you can stay safe!
How can you buy NFTs easily with NFTGo's Trading Aggregator?
Today, NFTGo, one of the most in-depth NFT analytics platforms, revealed its new trading aggregator. In short, NFTGo describes the feature as a "one-stop-shop for NFT discovery, analysis, and trading". Basically, the feature will help both newbies and whales buy NFTs cheaper and faster than before.
In fact, the trading aggregator works together with the NFTGo analytics platform. For example, you can check which NFTs are more popular at the moment, as well as their minting prices.
If you decide to make a purchase, you can simply add to your virtual cart. Surprisingly, you can add multiple NFTs from various marketplaces in the same cart. You can even bulk buy ERC721 and ERC1155 NFTs at once! Obviously, this will save you plenty of gas fees.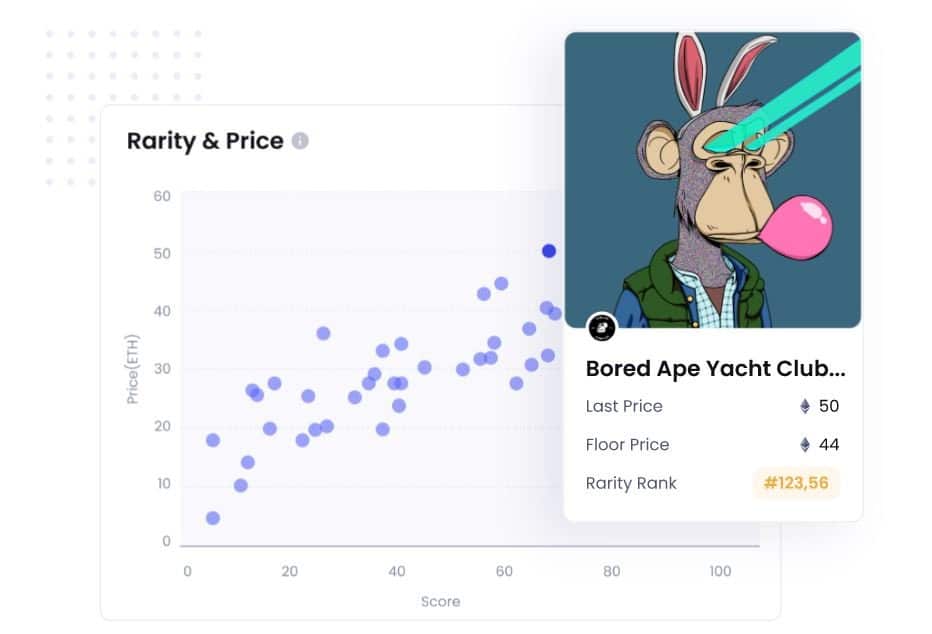 Can you safely mint NFTs?
Next, you can choose to turn on the trading aggregator's "safe mode". This option will protect your transactions from any malicious activity. Therefore, if one of more NFTs from your purchase won't be available at the time of minting, the aggregator will cancel the entire transaction.
Note that this feature means that your transaction will take longer to process. Moreover, you may also face higher gas fees than usual – but it may be worth it!
Another interesting feature is that the trading aggregator will let you know if any NFT seems unsafe. Basically, its bots check whether OpenSea marked the NFT as suspicious and send you a notification before you buy it.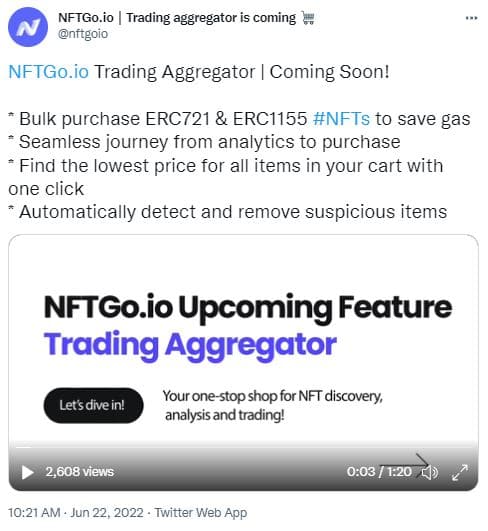 When will the trading aggregator launch?
AT this moment, NFTGo didn't release an official launch date for their trading aggregator. However, the team said it will launch "soon" in a tweet.
All in all, the NFT community could definitely use the features of the trading aggregator. The feature can significantly reduce our gas fees, prevent hacking incidents, and help us mint at a cheaper price.
Meanwhile, though, users can still enjoy the perks of the NFTGo Analytics platform.
What is NFT Go?
NFTGo is among the most popular NFT analytics platforms. There, users can check out data about NFT collections, marketplace analytics, and a market overview.
The platform also boasts an NFT whale tracker. This feature shows which NFTs were minted by whales in the past 24 hours.
Of course, you can also use the platform's Data API and Discord Bot tools for a smooth user experience. To conclude, NFTGo is a powerful way of exploring the NFT market – and its trading aggregator will facilitate the process even more!


Read the full article here