The Saudis NFT collection is storming the charts, thanks probably to Farokh. Currently, the project takes the second spot for collections with the highest sales volume, both in the last 24 hours and seven days on OpenSea. Apparently, Farokh got several of these NFTs and has already sold Saudis worth over 30 ETH. Here's all you need to know about the Saudis NFT project.
Did Farokh help pump the Saudis NFTs?
Currently, the Saudis NFT collection is one of the hottest NFT projects in the market, second only to the OG CryptoPunks. So, how did this new collection storm the charts? Some say it's all thanks to the NFT influencer, Farokh.
As JasonCline explained, "Also appears farokh somehow got a ton of these Saudi nfts even though was limited to 2/wallet. Sold over 30 eth real quick. Good times."
However, they further clarified that Farokh never shilled or promoted the project. "So technically he did nothing wrong," they added.
That said, some Twitter users have called this a "subtle shill". For instance, Senior Legal Counsel, John wrote, "Subtle shill, but casually nearing +10E profits in selling free mints…I gotta score more followers."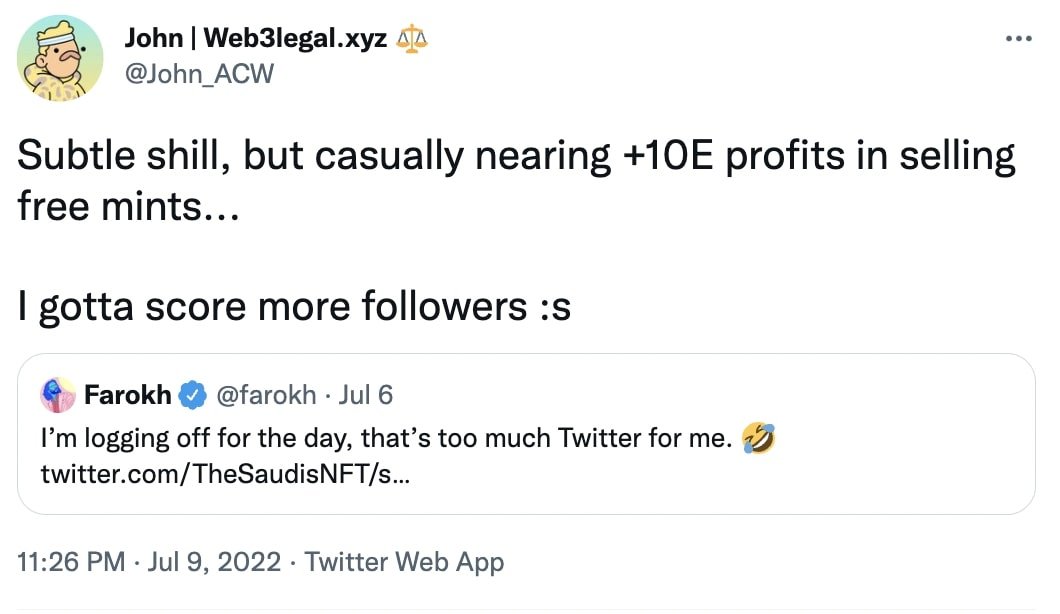 What is the Saudis NFT project?
The Saudis is a collection of 5,555 avatars in a 2D pixelated style similar to CryptoPunks. As usual, each NFT in the collection is unique and algorithmically generated from over 80 traits. The NFTs are based on the Ethereum blockchain and give holders access to all the project's upcoming venues. In addition, it gives them "Sheikh status" in the project's "kingdom".
The project is the latest addition to a string of free-to-mint NFT collections. Already, the Saudis NFT project has amassed 6,600 ETH in sales volume. It also has a floor price of 0.83 ETH. While the collection is off to a promising start, how it fares in the coming months remains to be seen. 
Read the full article here