Blockchain-based domain name provider, Unstoppable Domains today announced its partnership with MoonPay to make it easier to buy crypto. Thanks to the partnership, investors can now buy and send crypto from MoonPay to their wallets using their Unstoppable Domains. With this move, Unstoppable Domains hopes to make crypto transactions simpler for the larger public. Here's all you need to know about the Unstoppable Domains x MoonPay partnership.
About Unstoppable Domains x MoonPay partnership
As previously mentioned, the Unstoppable Domains x MoonPay partnership aims to make crypto transactions simpler. How exactly does it do this? 
To explain, in order to make a crypto transaction, you have to use your crypto wallet address. Now, this address is a unique, lengthy string of numbers and letters. For example, something like "0xAB25FF3F5A8S45792668A2SFA096545FLS3A695E".
Imagine remembering these confusing addresses every time you have to make a transaction! Not only are these addresses confusing and hard to remember, but have also been the cause of losses due to minor errors. NFT domains help to avoid all these issues by turning the wallet addresses into a simple, easy-to-remember name. 
With the latest partnership, users can simply enter their Unstoppable Domains username—for example, brad.crypto—while using MoonPay. According to Unstoppable Domains, by eliminating the need for complicated wallet addresses, the companies are making crypto transactions as simple as sending an e-mail. 
What's more, to celebrate the partnership, the firm is giving all MoonPay users $40 credit to get their first Unstoppable Domain. You can head over to the MoonPay website to get started!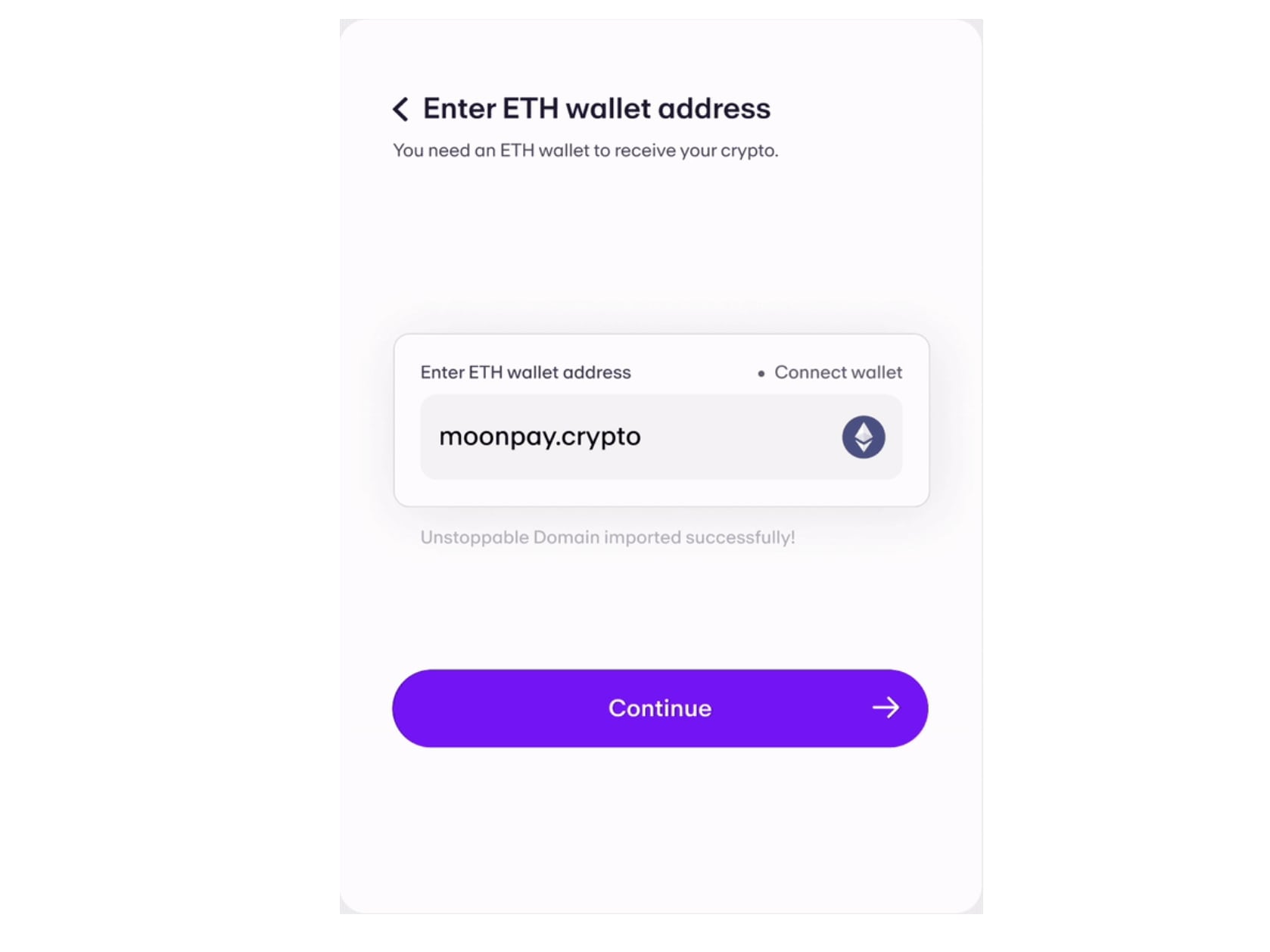 Increasing the access to Web3
"MoonPay's fiat on-ramps have made the front end of the Web3 journey—buying digital assets—simple and elegant," said MoonPay co-founder and CEO Ivan Soto-Wright. "And Unstoppable Domains' ability to remove the need for people to remember complex public wallet addresses by replacing them with custom domains has made the tail-end of the journey—taking custody—easier than ever before. 
"Working together, our new partnership will make navigating Web3 a seamless experience," Ivan added.
Sandy Carter, SVP of Business Development at Unstoppable Domains, also commented about the partnership. "Whether someone is just starting out in web3 or is a seasoned cryptopian, our partnership with MoonPay will simplify their experience." 
About MoonPay
Moonpay is a leading Web3 infrastructure provider founded in 2018 by Victor Faramond and Ivan Soto-Wright. Essentially, the company reduces the barriers to crypto adoption. It achieves this through a simple software solution that allows users to buy and sell crypto using regular payment methods. This includes debit and credit cards, local bank transfers, Apple Pay, Google Pay, and Samsung Pay.
Moreover, recently, MoonPay launched a new NFT platform, HyperMint to help large corporations, brands, and accretive agencies to create and mint NFTs. The platform boasts a stellar line-up of launch partners, including Fox Corporation, Universal Pictures, Selfridges, and music producer Timbaland's Beatclub.
Read the full article here