Superstar DJ Steve Aoki is fully invested in the Goblintown NFT hype. What's more, he played a pivotal role in their amazing NFT.NYC party. Taking place on Tuesday, during the three-day New York NFT event, this was one of the hottest parties going.
Entrance to the Goblintown event at Chelsea Music Hall was on a first-come basis. The people who made it into the event witnessed a spectacular event. 
Steve Aoki and Broadway stars perform incredible routine
Perhaps one of the most exciting aspects of the Goblintown event was the performance of some of Broadway's biggest stars. Taking centre stage and dressed up as realistic versions of Goblintown NFTs, it was a spectacle for those who managed to beat the lines and get in. 
This theatre-esque show had some incredible performers taking part. They indeed went out of their way to bring the characters of Goblintown to life.
Actors in the show included Jay Armstrong Johnson (Phantom of the Opera, On the Town, Quantico) and Mikayla Petrilla (Sleep No More, Saturday Night Live). They sang Frank Sinatra's "My Way" and Sarah McLaughlin's "In the Arms of An Angel".
This performance was the build-up for Steve Aoki's fantastic set. During this, he performed his brand new song, "Piss on the Dance Floor". This is a premint song and is available upon release on June 24th.
Steve Aoki Goblintown NFT show proves extremely popular
Along with the performance by Steve Aoki, one of the world's biggest and most famous DJs, there was so much more on offer at the Goblintown party. There were other live performances, an excellent food truck and tonnes of cool merchandise on display.
One attendee, Twitter user @CG1000x, said, "Bruuh @goblintownwtf is a phenomenon.. hundreds of people waiting in line to get into the party.. food truck going around, people are rocking merch. The floor should be 10x higher."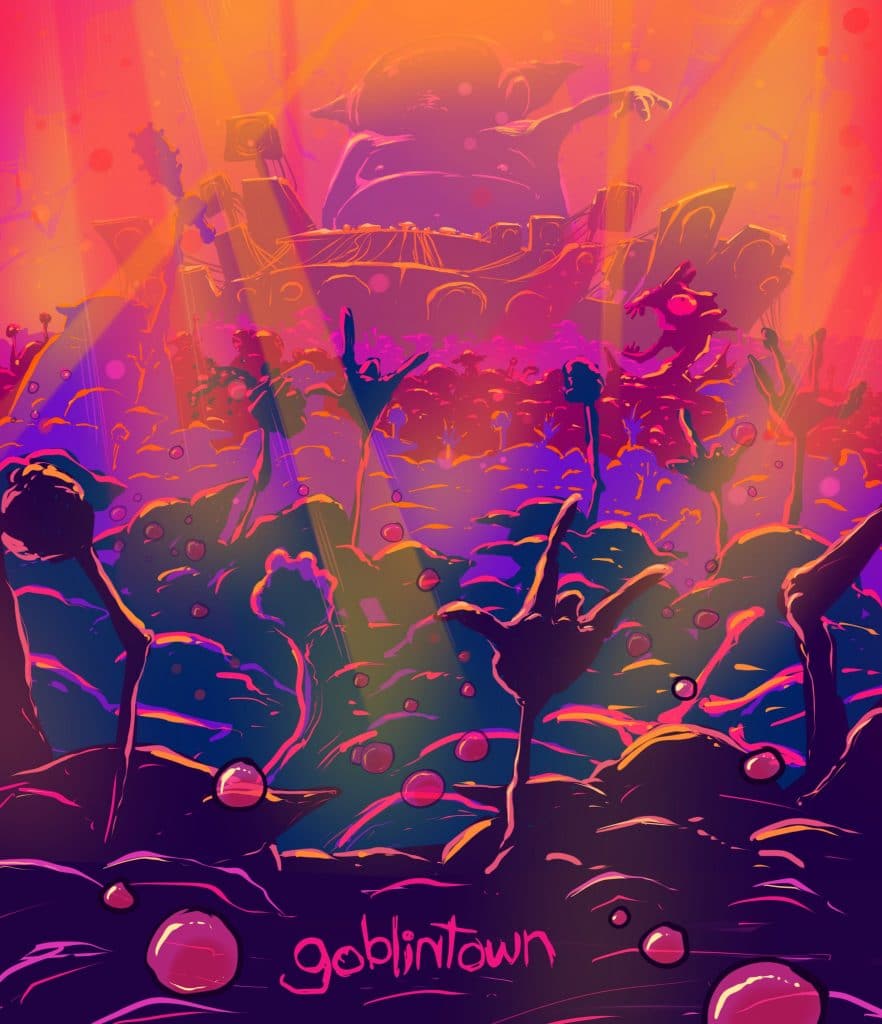 What is the Goblintown NFT project?
The new NFT project taking the space by storm has only been around for less than a month. Launching on May 19th, this was a free mint on OpenSea. It is a collection of 10,000 NFT avatars of strange and wonderful, ghoulish cartoon goblin characters.
Goblintown has arrived in the middle of an NFT and crypto slump. However, that has not slowed it down. In the month since its inception, it has gone from zero to a floor price of 3.74 ETH.
The 4th annual NFT.NYC event is bigger than ever!
This week, NFTs took over New York for the fourth annual NFT industry event. Many people from across the world flocked to take part in the prestigious NFT.NYC 2022 event.
Along with NFT projects like Goblintown hosting parties, there were the annual NFT awards, brunches, exhibitions and art events. Finally, this was a chance for NFT lovers to meet up and exchange ideas on the future of NFTs.
Read the full article here